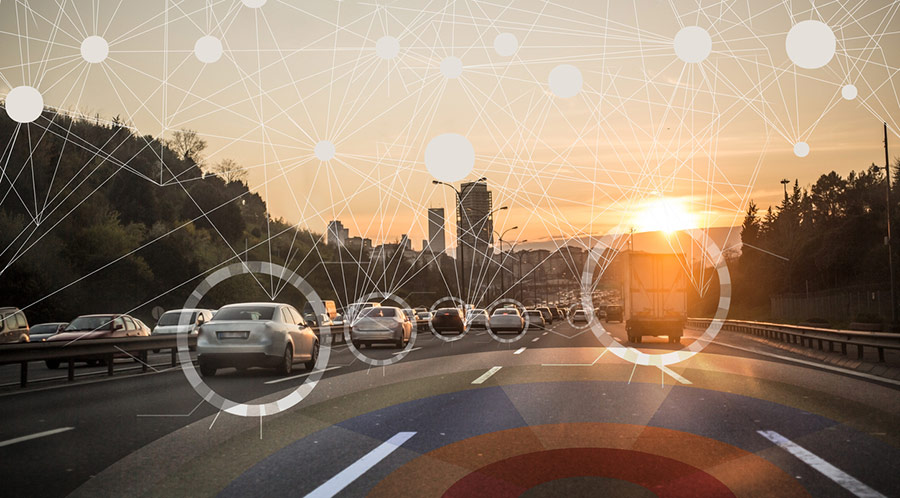 The term artificial intelligence, or AI, often conjures up images of a futuristic all-knowing computer or human-like robot, but it's better to think of it as you would the Internet. AI is a tool that changes the way that we work and interact with the world. By teaching computers how to think and act like humans, they can take over many tedious or time-consuming tasks.
Smart cities and local governments are leveraging this technology in many ways: The Minnesota Pollution Control Agency uses AI for weather forecasting, Maryland has AI-powered traffic signals, and Vermont uses AI to predict likely road repairs.
AI is a lot like the Internet; it's a tool that changes the way that we work and interact with the world. Click To Tweet
Infrastructure
Smart cities rely on AI to maximize efficiency and proactively identify problems.
For example, Maryland recently installed new traffic signals that could reduce travel times by ten to fifteen percent by responding to traffic flow in real-time. Atlanta similarly launched its North Avenue Smart Corridor in mid-September 2017, which features over 100 Internet of Things (IoT) sensors, adaptive signal timing systems, vehicle-to-infrastructure communications, and other technology to improve traffic safety and efficiency. The North Avenue Smart Corridor integrates several smart city technologies to improve safety and efficiency. To date, the route has seen an accident reduction of 25%.
On the other hand, Vermont uses AI to proactively identify infrastructure problems. Its pavement modeling software predicts how long a road treatment will last with 85 percent accuracy and its bridge deterioration predictions are based on a hundred different factors. In addition to improving safety, these models can help with forecasting costs and creating more accurate city and state budgets.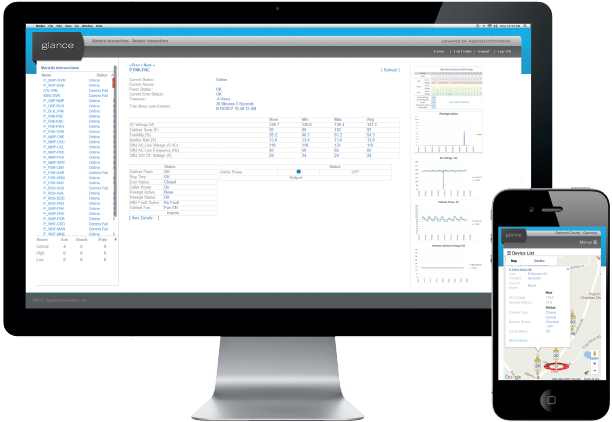 Applied Information's Glance – Source: Applied Information
The Glance Smart City Supervisory System also helps many cities quickly identify and address problems by tying together traffic and ITS assets in a single, easy-to-use web-based application. If there's a malfunction or issue, an instant status notification is delivered via SMS or email to the right personnel, giving them specific information about the problem and the exact location of the unit.
Customer Support
Another form of AI, chatbots, has already started to transform the way that citizens and employees interact with local governments.
Download: Checklist of Important Considerations When Implementing AI Technology
For example, Mississippi implemented a chatbot—named Missi—that is capable of answering over 100 different types of citizen inquiries, such as "Where can I search for unclaimed property?" and "How do I renew my fishing license?" This helps free up time for state workers to focus on more complex issues while providing citizens with immediate assistance; they no longer have to wait in a line or on hold.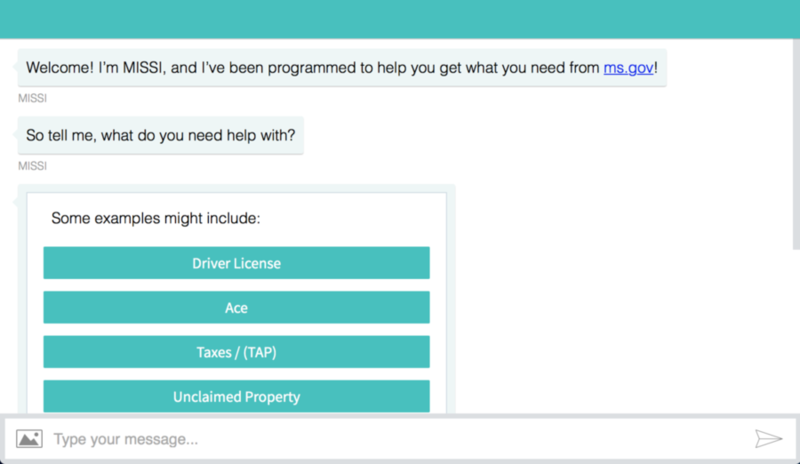 Missi User Interface – Source: Mississippi Government
Similarly, Los Angeles implemented a chatbot to handle simple IT requests, such as password resets. Chip—or the City Hall Internet Personality—has already fielded thousands of inquiries from residents and cut emails to the government in half. By fielding these repetitive inquiries, government employees can focus on more complex issues.
Transportation
Mass transit and emergency response vehicles will rely increasingly on AI to increase efficiency.
For example, connected intersections can detect traffic patterns and help improve bus and train schedules. Crunching the usage data for public transportation could also help determine the routes with the greatest ridership and prioritize routes where demand is the greatest. Smart tolls on highways could similarly increase prices when there's more traffic on the road or help optimize high occupancy vehicle (HOV) lanes.
Adaptive preemption systems are also helping emergency vehicles reach their destinations more quickly. For instance, the Glance Preemption & Priority System automatically reroutes traffic away from an emergency vehicle's path by changing traffic signals well in advance of the emergency vehicle's current location. It also gets around "dead reckoning" issues by using both cellular and radio communication to minimize response times.
eDiscovery
Legal issues are both time-consuming and expensive for cities operating on a limited budget, but AI is helping to significantly reduce these costs.
Download: Checklist of Important Considerations When Implementing AI Technology
The discovery process used to involve attorneys sifting through boxes of paper documents. According to Deloitte, more than 40 percent of government agencies lacked confidence in their eDiscovery capabilities and only 38 percent were confident they could demonstrate the quality of the ESI used for eDiscovery if challenged in court.
Electronic records have made the discovery process easier, but there's more data being generated than ever before. By inputting the cast of characters, key dates, and flagging example documents of interest, AI can help government attorneys find relevant documents much more quickly than a human ever could. This can help lower costs and eliminate tedious work.
Security
Cybersecurity has become increasingly important, especially given the rise in connected smart cities.
Earlier this year, two large American cities learned the importance of cybersecurity the hard way. Atlanta was the victim of a ransomware attack that took many of its services offline for a week and Baltimore's 311 and 911 dispatch systems were taken offline for over seventeen hours. These types of attacks are only likely to rise, as nearly one-third of cities report being attacked hourly or more, according to GovTech.


Cybersecurity Incidents – Source: Govtech
AI is playing an increasingly important role in mitigating these risks. In particular, AI helps monitor human behavior and detect things that aren't quite right. For example, AI may help identify and flag phishing emails to prevent employees from unwittingly downloading malware or handing over credentials. It can also help identify and block malicious network traffic based on IP addresses and activities.
The Bottom Line
Artificial intelligence is already playing an important role in smart cities and local governments, but we're just scratching the surface of its long-term potential. With the rise of IoT technology and electronic records, there is more data being generated to help train computers to make faster and better decisions—and that could improve safety, increase revenue, lower costs and much more.