Glance
Smart City Supervisory System
Connect and monitor all your devices
The Glance Smart City Supervisory System™ allows cities to manage all their traffic and ITS assets under one, easy-to-use web-based application. This cloud-based, smart city platform delivers the right information at the right time so you can maximize your ITS investment.
The Glance Smart City Supervisory platform seamlessly connects all your ITS devices into a single, easy to use application that is accessible in the office or in the field.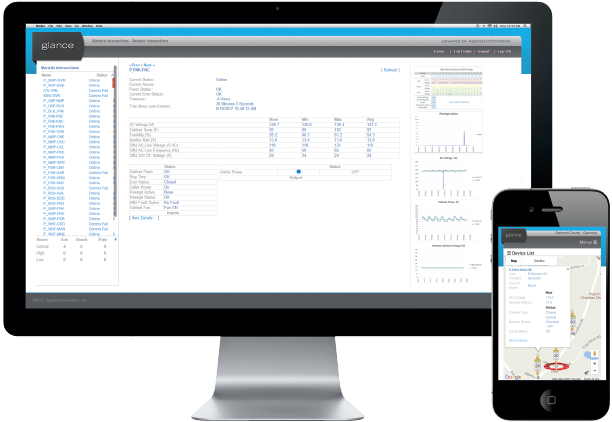 Glance shows you the status of your complete network. The cloud-based platform provides unparalleled access to key performance indicators so you can easily analyze and create valuable reports.
Simple to deploy and easy to maintain, Glance allows for low friction delivery and connection of your ITS devices
Reduce downtime and improve response times by knowing the location and status of each unit before sending service personnel
Self-configuring communications alleviate the need for costly and time consuming manual configuration
Instant status change notifications are delivered via SMS/Email when exception events occur so you are aware of any changes to the network


Intersections
Monitor and control all your traffic intersection cabinet equipment. Information includes AC power, battery back up, cabinet flash, stop time, door switches, fan status and more.

Pedestrian Safety
Easily view and control school beacon flashers and their schedules from anywhere. Reduce downtime and improve response times by knowing the beacon status before sending service personnel.

Preemption
Provide green lights to emergency vehicles using the latest GPS, Cellular and Radio technologies. Utilize adaptive preemption to ensure your emergency vehicles always receive green lights.

ITS Management
Glance enables the control of dynamic message signs, portable signs, overheight detection systems, wrong way detection, warning signals and many more.

Mobile
Track vehicles in real-time and play back events to see how vehicles responded. Glance provides dynamic information overlays that draw maps of the current roadway conditions.

Parking
Glance provides parking solutions to cities and parking facilities. The system delivers real-time parking information from facilities onto electronic signs throughout your city.