Company singled out for entrepreneurial growth and advanced technology innovation in transportation
SAN ANTONIO, TX (November 19, 2018) – The National Electrical Manufacturers Association (NEMA) presented its annual Illuminations Award to Applied Information, Inc.at the NEMA Annual Meeting in San Antonio, Texas.
The Illuminations Award is presented to a NEMA Business Innovations Council member company that demonstrates success through entrepreneurial growth and advanced technology innovation. (See video here)
"Each year, we honor a Member company that has demonstrated success through entrepreneurial growth, advanced technology and pioneering innovation," said Kevin Cosgriff, NEMA's President and CEO. "Applied Information's commitment to developing technology to improve safety and mobility on our nation's streets and highways captures the spirit and totality of this well-earned award."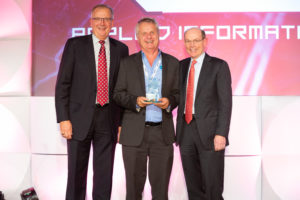 "It is a great honor to be selected for this prestigious award which recognizes the inspiring work of and products developed by the Applied Information team," said Bryan Mulligan, Applied Information President. "Being recognized for this work by an organization such as NEMA validates our mission to create and deliver new technology to save lives, improve traffic, drive commerce and help the environment."
In presenting the award, NEMA said: "Founded in 2011 by Bryan Mulligan, the company is a leader in developing connected, intelligent transportation system solutions designed to improve safety, reliability, and mobility. Mr. Mulligan is active in NEMA's Transportation Division and recently led the effort to develop a new transportation cybersecurity standard."
The Illuminations Award was established by the NEMA Board of Governors in 2015 to highlight the work of small- and medium-sized NEMA Business Innovation Council member companies.