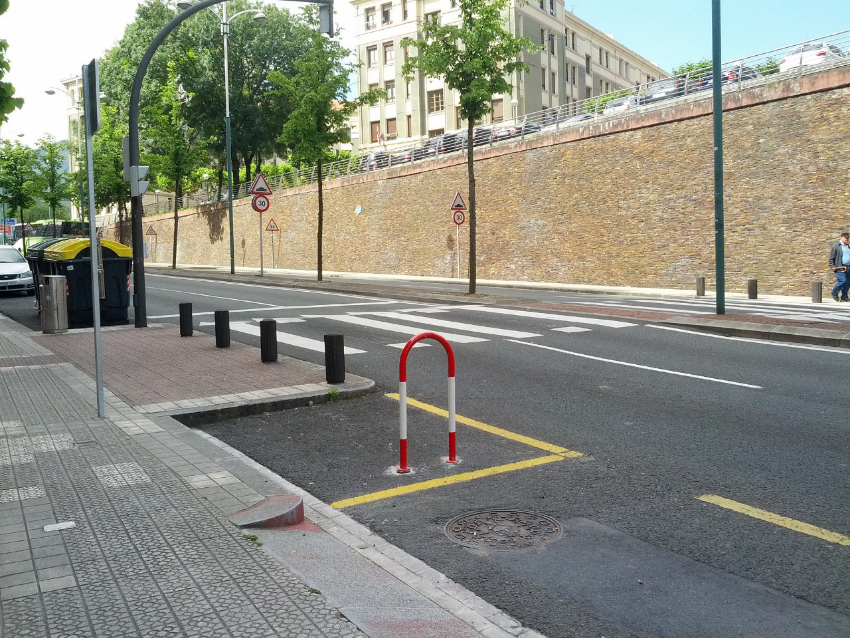 It's easy to assume that pedestrians will cross roadways at established intersections, but in reality, pedestrians rarely go out of their way to cross at an intersection. Most pedestrians will take the most direct route possible unless they're rewarded with a far superior crossing by going out of their way.
Mid-block traffic crossings can solve these problems by enabling pedestrians to cross at non-intersections without endangering themselves or motorists.
What Are Mid-Block Traffic Crossings?
Downtown areas often have numerous intersections with short cycle lengths, but suburban areas have longer blocks and intersections with longer cycle lengths. These dynamics change the calculus for pedestrians looking to cross the road—even if there are multiple lanes of high-speed traffic.
Mid-block traffic crossings enable pedestrians to safely cross the street in the middle of a block, rather than traveling to an intersection or crossing at unpredictable mid-block locations. The two primary types of mid-block traffic crossings are medians and mid-block signals.
[bctt tweet="Mid-block traffic crossings enable pedestrians to cross the street in the middle of a block." username="AppInfoInc"]
Medians
Medians are spaces that separate two opposing lanes of traffic. Rather than having to cross four lanes of traffic going two separate directions, pedestrians only need to cross two lanes of traffic going one direction at a time. Medians also give younger and older pedestrians more time to cross the road.
Example of a Mid-Block Median in Port Townsend, WA – Source: Traffic Calming Flickr Photoset
Creative landscaping can also help divert pedestrians to safe crosswalks. For example, dense shrubs can make it difficult for pedestrians to cross through a median and encourage them to find the nearest crosswalk to safely cross the street. These techniques provide optimal safety for pedestrians and motorists.
In addition to improving safety, it's 5-10% cheaper to build a median and up to 40% cheaper to maintain it when compared to a center left-turn lane. Grass is cheaper than asphalt and there's no need to resurface it over time. Grass medians also reduce drainage and water treatment costs.
Mid-Block Signals
Mid-block signals are flashing lights that stop traffic and enable pedestrians to safely cross. Unlike traditional intersections, mid-block signals should provide a hot response and delay traffic as little as possible. Otherwise, pedestrians may cross early and traffic can be stopped unnecessarily.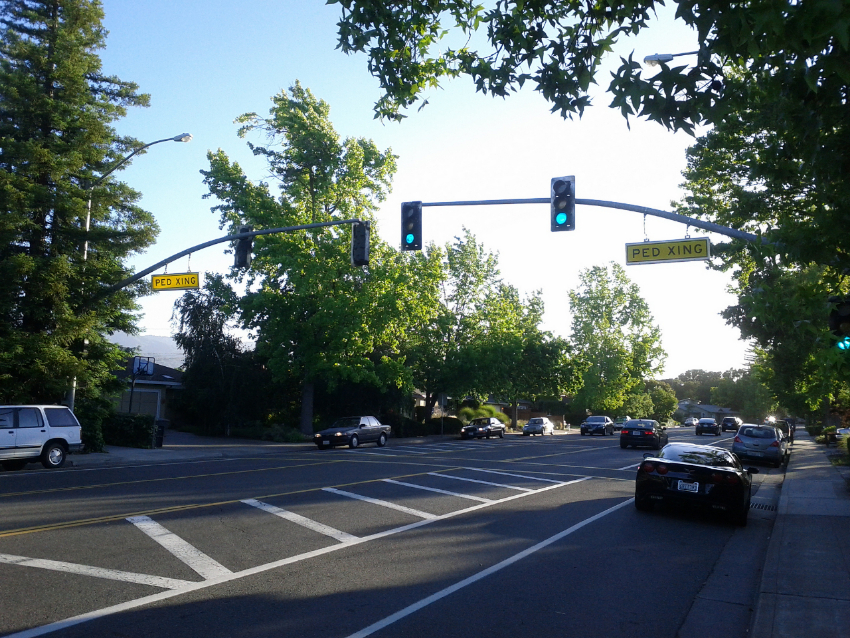 Example of a Mid-Block Signal – Source: Eric Fischer via Flicker
A great way to ensure that pedestrians can safely cross without delaying traffic too long is to implement a three-step signal:
Flashing light indicates that traffic should start to slow down and stop when it's safe.
Solid light indicates that traffic should stop to allow a pedestrian to cross.
Flashing light indicates to treat the intersection as a stop sign and proceed when safe.
How to Implement Mid-Block Crossings
The best way to start implementing a mid-block traffic crossing is with a Pedestrian Tracking Survey that documents where and how people cross the street. Using this information, you can locate mid-block crossings at the most effective locations and understand the interface between streets and surrounding areas.
Other guidelines can help inform decisions when implementing mid-block crossings.
[content_upgrade cu_id="2786″]Download our guide to conducting a pedestrian tracking survey.[content_upgrade_button]Click Here[/content_upgrade_button][/content_upgrade]
Connect Desired Lanes
Pedestrians and cyclists often desire to continue their intended path of travel. Patterns emerge when you start to track these modes of travel. Pedestrians may frequently cross to bus stops or metro stations, while cyclists may often cross over to parks or trails.
Ensure Sufficient Lighting
Many motorists tend to ignore crosswalks, even if there's a signal designed to encourage them to yield.
The best way to encourage them to actually yield is to provide ample lighting, so they can see pedestrians or bicyclists waiting to cross the street. Overhead lights can help illuminate these individuals and encourage vehicles to stop—and they work especially well with flashing lights and other indicators.
Properly Mark the Crossings
Stop lines should be set back between 25 and 50 feet to provide multiple cars the opportunity to see pedestrians at the crossing. Crosswalks should also be striped regardless of the paving pattern or material so that drivers can see it at night. As discussed earlier, it also helps to have overhead lighting.
Overhead signage with flashing lights are a great way to make it clear where crosswalks exist mid-block. On slower streets, raising the crosswalks can also encourage motorists to slow down and look for pedestrians. This strategy is common in many school zones, where speeds are already lower than in surrounding areas.
Consider Connected Crosswalks
Connected crosswalks leverage technology to make mid-block crossings even safer.
Our Pedestrian Crossing Safety System, or PCSS, is a smart mid-block crossing solution that uses bold, attention-grabbing visual alerts and audio warnings to warn both drivers and pedestrians. By working with our TravelSafely app, the system proactively addresses potential collisions before they happen.
For example, suppose that a car is approaching a crosswalk too quickly and a pedestrian is about to cross. The PCSS would recognize the potential danger and provide an audible warning to the pedestrian to avoid crossing. This lets the pedestrian avoid danger, even if they're on their smartphone.
Getting Started
Mid-block traffic crossings are becoming increasingly necessary as cities expand beyond dense downtown areas. For longer blocks with less frequent signalization, mid-block crossings are a great way to help pedestrians and bicyclists get to their destination safely without darting across busy streets.
There are many different options when it comes to safe mid-block crossings, but connected crosswalks represent the latest in design and safety. By providing an interface between pedestrians and motorists, as well as automating alerts, these technologies can ensure that everyone is safe.
Applied Information provides a variety of smart city solutions, including connected crosswalks, school zone flashing beacons, preemption systems, traffic intersection solutions, parking solutions, mobile technologies, and more. If you're interested in learning more, contact us today for a consultation.
[content_upgrade cu_id="2786″]Don't forget to download our guide to conducting a pedestrian tracking survey.[content_upgrade_button]Click Here[/content_upgrade_button][/content_upgrade]