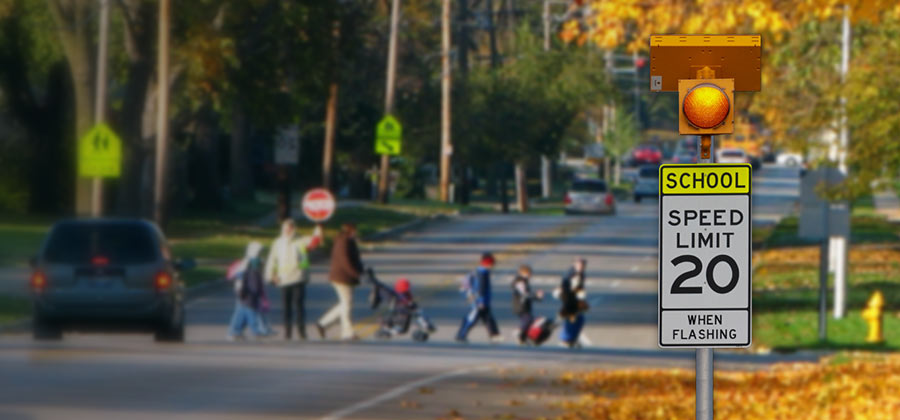 A cloud-connected, school zone flashing beacon system can significantly improve school zone communication and safety, and in turn enhances pedestrian, bicyclist and driver safety. Adding remote access to your school beacon system adds a new level of convenience, accuracy, safety and efficiency to each beacon location, as well as your entire network.
When departments begin their search for upgrading or replacing their school beacon systems, the first questions are often about pricing. How much will it cost to install a connected school beacon monitoring system? While it may seem like a simple question, different factors and decisions need consideration.
Analyze your current system
The first step in determining a price is to gather information about your current system. How many current beacons are in place? Where are they located? What type of power and utilities are available at each location? It's important to document and catalog your inventory so the connected beacon provider can assess where you stand.
What do you want from the new system?
It's smart to begin by listing out the benefits you hope to achieve by adding connectivity to your school zone flashing beacon system. Modern, connected beacon systems give you the ability to perform several tasks remotely:
Monitor AC power and battery system voltage
Change beacon status on-the-fly for weather events
Check for lamp failures
Test and monitor the beacons
Gauge the solar charge voltage
Set or adjust the recurring schedule
Establish a list of the functions you'd like to gain with the investment so you can compare apples to apples when receiving a bid.
Replace or Upgrade
A big question that most departments have is if they can upgrade their current set-up or if they need to install a brand new system. The answer greatly depends upon the existing equipment you are using. Many of the components of your current system can likely be reused.
Poles rarely need to be replaced, and neither do cabinets for housing the equipment. School beacon technology providers should be able to tell you what equipment can be reused and help you establish a priority list of replacement items that can be gradually introduced into your budget.
Upgrade options include a timer switch retrofit, replacement of the base plate or in some cases replacement of the entire cabinet. You can check out this post for more information on upgrading your school zone flashing beacon system.
Purchase and Funding Options
Remote school beacon monitoring systems are different from a traditional hardware purchase and, as such, there are many different ways they can be purchased.
Remote systems have a service component to them because the product is often bundled with data, software and maintenance. This technology converts each beacon into a communication device that offers complete manageability of a location and peace of mind that it's operating as expected.
The cellular, or data, part of the investment, in particular, is sold in many ways. Some vendors have an initial cost for the hardware followed by a monthly fee, similar to a cell phone plan.
At Applied Information, we typically bundle the hardware, maintenance and data costs into a single purchase price that covers a defined term, such as five or ten years. Our plans include the beacon hardware as well as all the data, a complete warranty, maintenance and full upgrades over the term
Having a fixed fee that clearly states all your expenses before the purchase gives many cities peace of mind and makes it easier to obtain funding for the project.
The Bottom Line
Ultimately, the price of your cloud-connected school zone flashing beacon system will come down to a few critical factors. These include the status of your current system, what you want to achieve, and how you want to pay for it.
Each municipality is different, and the best route is to talk with your dealer and explore what options are available. Unlike traffic hardware purchases, these systems require more of a consultative approach, but a ballpark price can easily be obtained after an initial discussion.
Ready to see if a connected beacon system is right for you? Request a consultation from one of our beacon experts or click here to learn more about our solution.