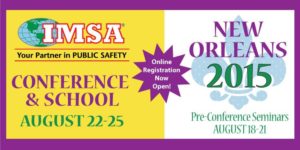 Applied Information will be exhibiting with Temple at the IMSA 2015 conference in New Orleans on the 24th and 25th of August at booth 815.
We are showcasing our latest "Smart Cities Supervisory Systems" product line. These include our range of School Zone Flashing Timer Switch, Glance Preemption & Priority Systems, Intersection Monitoring, Remote Device Reset and other devices all connected to Glance. Hope to see you in New Orleans!
Come ask us how our latest Preemption & Priority generation utilizing GPS, 900MHz radio and cellular communications makes these systems for more effective. Come see how this all works!
Come visit us at booth #815.