Glance Smart City Supervisory System
Glance Smart City Supervisory System
The Glance Smart City Supervisory System allows cities to manage all their traffic and ITS assets under one web based application.
This includes 6 key areas: Traffic Intersections, School Beacons, Preemption & Priority Systems, Parking Guidance System, Mobile Vehicle Assets and ITS devices. The platform is a cloud hosted software solution that allows operators to log in from any internet connected device to get an overview of all the cities assets. The Glance Smart City Supervisory System makes managing all traffic systems easy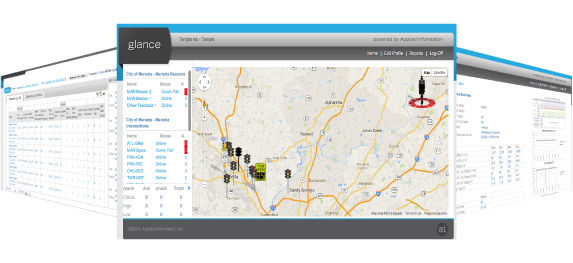 Glance Cloud Computing consists of three levels of increasing information detail:
Level 1 – Situational awareness. – Map view/List view
Level 2 – Device Overview – Key Performance Indicators/Alarms/Trends
Level 3 – Device Unit Detail – Device detail, maintenance and diagnostic information
Level 1: Situation Awareness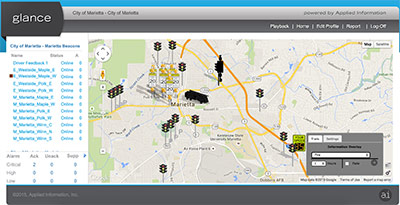 List Display: Shows all the devices for the account allowing easy navigation, itemizing the devices of highest priority active alarms first.
Map Display: Shows the current position of each device on a map. The device state is reflected by the icon's alarm status. The icon displays more detail as well as an option to navigate to the second level.
 Level 2: Device Overview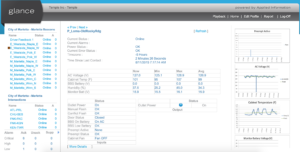 Level 2 contains the current and historical device information. This information is customized to each device type to show the relevant information needed. This level also displays trending charts and graph activity for recent history. The device overview allows you to at a glance determine the status and health of each of your smart city supervisory system devices.
 Level 3: Device Unit Detail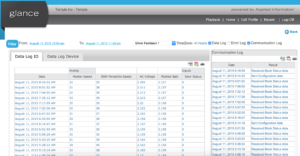 Level 3 shows detailed raw information for the device parameters. The information includes all raw data collected from the device and is searchable by selecting custom date ranges. All information is exportable to excel, pdf or to a printer. This allows operators to export data and create their own custom reports.
There are many other features of the Glance Smart City Supervisory System. For more information please contact sales@appinfoinc.com