Download the Renew Atlanta North Avenue Ribbon Cutting – Digital Media Kit

Company Overview
Applied Information is a leading developer of connected, intelligent transportation system (ITS) solutions designed to improve safety, reliability and mobility. Applied Information's Glance Smart City Supervisory System™ platform allows cities to manage all their traffic and ITS assets on one web-based application. This includes 5 key areas: Traffic Intersections, School Beacons, Parking Guidance System, Mobile Vehicle Assets and ITS devices. AI's Glance TravelSafely™ smartphone app connects drivers, cyclists and pedestrians for a safer commute.
Bios
Bryan Mulligan
Bryan Mulligan is the President and Founder of Applied Information (AI) and has more than 18 years of experience leading the transportation industry in technical innovation. Bryan established AI in 2011 to meet the need for a technology company that can apply new wireless, Internet-of-Things, cloud computing and connected vehicle technologies into modern solutions for the transportation sector. Under Bryan's leadership, AI has established technologies in multiple sectors in transportation, including smartphone apps, intersection management, connected vehicle priority/preemption systems, pedestrian safety, mobile data acquisition, parking and ITS management.
Since 2008, Bryan has been the chair of the National Electrical Manufacturers Association (NEMA 3TS) section that develops standards for vehicular transportation technology. He leads the section in the creation and revision of some of the well-known transportation industry standards such as NEMA TS2 and NEMA TS4. Bryan is also a member of the NTCIP Joint Committee; he is the NEMA head of delegation and has been a contributing author to many NTCIP standards.
Bryan is a serial entrepreneur with a history of creating successful technology companies. Prior to starting Applied Information, Bryan founded Intelligent Devices, Inc. which became a leading provider of NTCIP and ITS solutions around the world. He also founded a successful software company. Bryan also served as the Chief Technology Officer of U.S. Traffic Corporation.
He has a B Sc. Eng (Civil), First Class Honors, from the University of Cape Town.
Kleinjan Deetlefs
Kleinjan Deetlefs is the Vice President of Operations and Engineering at Applied Information where he manages manufacturing, operations and engineering functions, as well as, provides key leadership to the company in general. He is a senior level professional with 25 years engineering and management experience. His background includes general engineering, new product development, operations management, project management, contract negotiations and administration.
For the last 17 years, Kleinjan has been involved in the transportation infrastructure and ITS industry. Before joining Applied Information, he was the Vice President of Engineering at McCain Inc. and before that he served in the same capacity at U.S. Traffic Corporation (now merged with Peek Traffic). He has served as an active member of many industry committees including NEMA 3TS, NTCIP and ATC.
He has a B Sc. Eng (Electrical) from the University of Stellenbosch, South Africa.
Peter Ashley
Peter Ashley is the Vice President of Business Development and Marketing at Applied Information where he leads the company's team of sales and marketing professionals. He has over 10 years of worldwide experience in the Intelligent Transportation Systems business based in three different countries. His global experience provides a different insight on the advancing ITS systems in our industry and in providing new technologies and tools to the state and local DOTs, consultants, vendors and contractors to lower costs and increase the success of ITS deployments.
Prior to Applied Information, Peter worked for Imtech Traffic & Infra in the Netherlands managing projects in six different countries. Previously, Peter worked for Delcan Technologies and Intelligent Devices, Inc. while both were heavily involved in developing NTCIP standards.
He has a B Sc. Eng (Electrical), First Class Honors, from the University of Cape Town.
Press Release
Renew Atlanta North Avenue Ribbon Cutting – Press Release
Infographic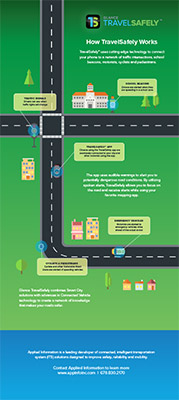 Download the TravelSafely Infographic
Brochures
B-Roll Footage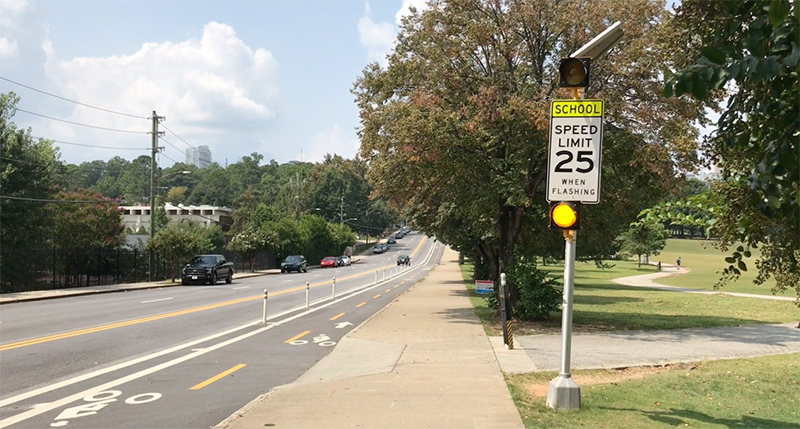 Atlanta TravelSafely B-Roll Footage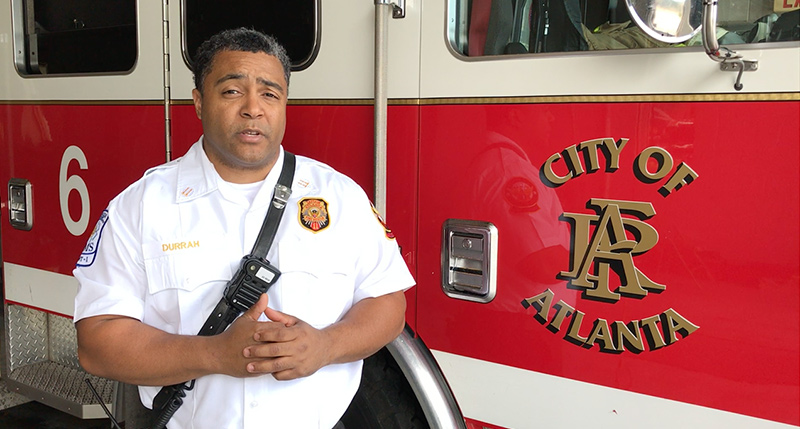 Captian Taurus Durrah Interview
Logos