June 20, 2017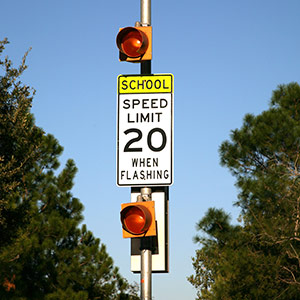 Smart City technology makes beacons part of the Internet of Things for more efficient operation
Fort Bend County, Texas, has installed 140 new flashing school zone beacons using Smart City technology developed by Applied Information, Inc.
The new beacons are now part of the Internet of Things (IoT) which provides a wireless connection to each flasher that enables traffic engineers to monitor and update the entire system remotely, making it the most advanced system of its kind.
A suburb of … Continue Reading
May 18, 2017
11Alive's Jerry Carnes takes a drive with Bryan Mulligan to see how driverless vehicles operate along I-75.
Extract from the article below: Driverless cars may seem like an idea straight out of The Jetsons, but the vehicle traveling right next to you could be an autonomous vehicle. In fact, Atlanta's North Avenue will soon be on the cutting edge of the technology that will allow you to take a ride in one of the many rolling computers on the road … Continue Reading
May 11, 2017
Glance TravelSafely™ is an smartphone application currently under development by Applied Information. The app is using cutting-edge technology to make the promise of connected vehicle systems a reality, and keep each other safer on the roads.
A key feature of the application is increasing safety for cyclists. TravelSafely provides audio alerts which make user's aware of one another's presence by providing collision warnings 10 seconds in advance of the nearby interface. The warning enhances awareness which allows drivers, cyclists, and … Continue Reading
April 6, 2017
The partnership between AT&T and Applied Information is creating "smarter cities" by providing wireless connectivity and end-to-end solutions that cover all aspects of the physical, technical, and network of its systems.
Applied Information's cloud and web-based Glance School Zone Flashing Beacon systems give city and county officials a simple, easy-to-use interface that provides remote monitoring and control of the school beacon systems in their communities. Likewise, the partnership allows for full-spectrum communication for Applied Information's traffic preemption systems.
The partnership … Continue Reading
March 30, 2017
Even the most advanced traffic monitoring systems have occasional failures. Often, the fix is a simple re-set, but the critical question is: How quickly can your system communicate the specific problem?
Will you need to send a technician on site to the traffic cabinet to determine the problem? Will he or she have the correct tools and skills to make the repair when they get there? New technology is allowing systems to identify the source of the problem immediately. Best … Continue Reading
March 16, 2017
CBS 46 Traffic Solutions reporter, Vince Sims recently interviewed Bryan Mulligan, President of Applied Information, for a story about driverless car technology in Atlanta. Said Sims "I'll be honest, at first I was skeptical, but seeing it first hand and learning the science behind it was interesting." During the interview Mulligan and Sims took a drive around Atlanta in a Tesla to demonstrate the technology. Click here to view the story on CBS 46
March 9, 2017
Traffic monitoring and preemption systems can contribute substantially to the safety and efficiency of a community and recent innovations have dramatically increased the intelligence of traffic cabinet system. These systems are becoming increasingly more valuable as they get smarter.
A typical system might only monitor the traffic controller while newer, intelligent traffic control systems can monitor both the hardware and software components related to the entire cabinet. Here are seven traffic cabinet systems metrics that can now be remotely monitored:… Continue Reading
March 2, 2017
On June 20, 2015, a Saturday, a power failure was detected at an intersection within the City of Sandy Springs. Immediately a text message and email was sent to the Sandy Springs traffic engineers alerting them about the power failure. A second alert message was sent out to confirm that the battery back up system (BBS) was operating correctly and that the intersection was now running on the BBS power. This provided the traffic engineers with the knowledge that the … Continue Reading
February 2, 2017
While school zone beacons are designed for pedestrian and traffic safety, if they're not in proper repair or timed incorrectly, they can deliver the opposite effect. When drivers see the flashing light at inaccurate times they lose trust in the system, begin to ignore the beacons, and stop slowing down.
Over time, drivers become immune to the flashing lights and disregard them altogether. The advantages of a beacon system are far too important to let slip away due to a … Continue Reading
January 26, 2017
More than ever, city budgets are being pinched, and decision makers are being forced to do more with less. Significant investments, such as traffic light systems and school zone beacon systems can become obsolete without an effective, efficient and budget friendly method for upgrading features and services. Technology, and specifically over-the-air updates, can help manage this challenge.
A smart city is a connected city
Whether it is a city's transportation system, police, fire or utility services or its network of … Continue Reading
January 23, 2017
Watch as the Applied Information team previews the new Travel Safely app. The app brings connected vehicle technology to vehicles, cyclists and pedestrians.… Continue Reading
January 19, 2017
Preemption systems are designed to automatically process a request for a green light as an emergency vehicle approaches a signalized intersection, so the emergency vehicle is given the right of way. This technology allows for faster response time and safer travel.
Most standard GPS preemption systems rely on a static, pre-set timing plan, which typically requests a green light 30 seconds prior to the arrival of the emergency vehicle at a traffic signal. The plans are based on distance, which … Continue Reading
January 12, 2017
As school zone beacon systems have evolved, they have added increasing amounts of technology into what was traditionally a simple set-up. Gone are the days of manual updates to accommodate snow days, holidays or any other changes in the school schedule. Additionally, new school zone beacon systems do not require drive-by viewing to ensure every beacon is working properly.
New technology in school beacons provides simple, on-line scheduling updates that can be made to all locations simultaneously. It also allows … Continue Reading
December 8, 2016
ITS Georgia is a state chapter of ITS America, the nation's largest organization dedicated to advancing the research, development, and deployment of Intelligent Transportation Systems (ITS). Gwinnett County was recently awarded the ITS GA 2016 Innovation for Outside the Box Award for the implementation of the Glance School Zone Flashing Beacon System.
The Outside the Box Award is presented for distinctively creative and unique approach or solution to an ITS challenge. The Gwinnett County Public School system, the largest school … Continue Reading
December 1, 2016
Fire departments are continuously looking at ways to deliver emergency services more efficiently. In the past, the best solution for decreasing response time was to increase the number of fire stations and strategically locate them across the city. This entails building new stations, hiring more firefighters, and purchasing new equipment. While effective, this approach quickly adds up to a substantial investment.
Leveraging New Preemption Systems
Many cities and municipalities are turning to a new generation of preemption systems as a … Continue Reading
« Back
Next »